Workshop: Nia Teacher Inspiration + Mentoring with TeamBASS
Workshop: Nia Teacher Inspiration + Mentoring with TeamBASS
From 05/19/18 1:00 pm until 05/19/18 4:30 pm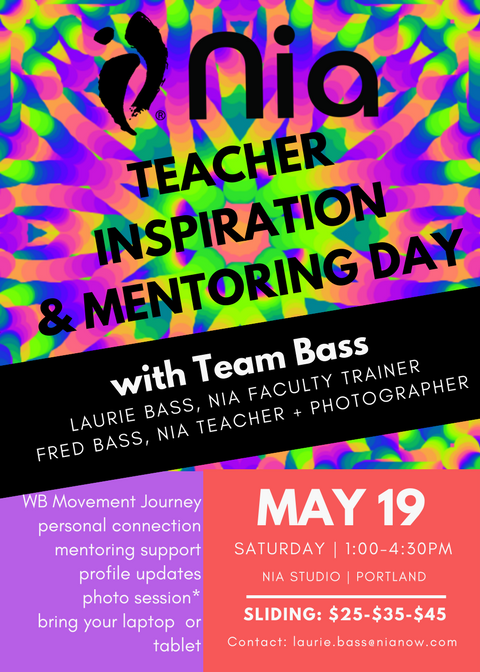 Join Nia Faculty Trainer Laurie Bass + 1st Degree Nia Black Belt Fred Bass -- aka TeamBASS.
This workshop afternoon is for Nia Teachers of all levels who are seeking inspiration, support and mentoring on their Nia path. We'll begin with inspiration: a movement journey through the 13 White Belt Principles. Then we will check in and connect both personally and professionally. Where are you in your practice? Your teaching? Your Nia business? Is your Nia profile current? Marketing? Where do you need mentoring and support?
For those who would love a session on technology support, bring your laptops, tablets, and phones.
Need professional images? Fred will have his camera and will offer mini-photo sessions (rates TBD)
Nia with TeamBASS welcomes teachers of all levels. You'll receive tools, tips and support from us, each other and build community support.
Contact: This email address is being protected from spambots. You need JavaScript enabled to view it.